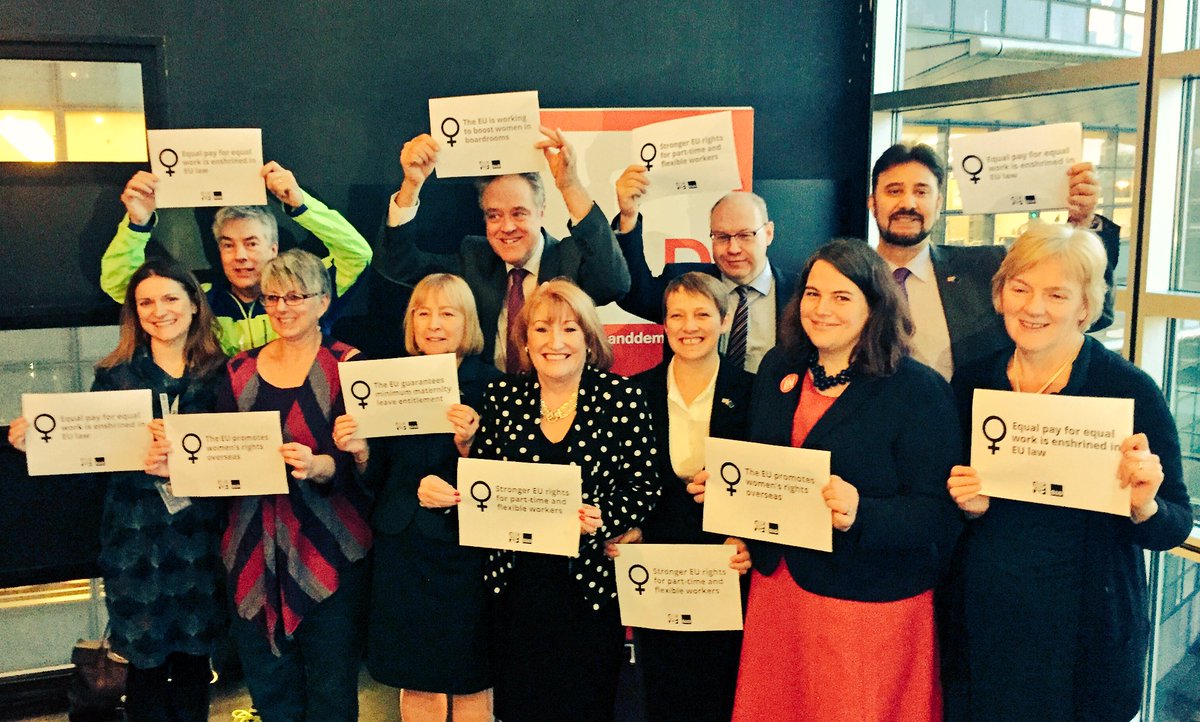 While it might have only made news one day this week, International Women's Day and women's rights is something that we should have in mind all year round.
This week I made the point of advocating the need for more women and girls in STEM. Women make up just 12.8% of the science, technology, engineering and maths workforce in the UK. I am calling for earlier encouragement of young girls into these subjects to ensure they don't shy away from the traditionally 'masculine' professions, instead opting for arts and languages. At the other end, we need access to life-long learning so that women can change career, re-skill and develop in order to adapt to the evolving labour market. We also need adequate social policies that support those women working in STEM with families. More women in STEM represent a vital opportunity to close to the pay gap and improve women's opportunities in the labour market.
This week in plenary we also debated (speech hyperlink) the socio-economic situation of women in the EU. Austerity has meant that women have suffered disproportionately against men. Cutbacks in services and family benefits have compromised women's economic independence, as benefits often constitute an important source of their income and because they use public services more than men. I am calling for the need to support these women through promoting an adequate work-life balance, men and women to both share parental leave, employer flexibility so that women can return to work, quality childcare facilities and care for the elderly to offset the Europe-wide 4-% pension gap.
In addition to STEM and the socio-economic situation of women, we debated the situation of women refugees in the EU (blog hyperlink). Along with my Labour colleagues, I voted to advocate a safe passage of women and children refugees and highlighted the necessity of a gender dimension to policies being pursued to deal with the refugee crisis. Women are at risk and suffer at every stage of their journey to Europe. We need to protect and empower these fellow humans as they risk everything to save their families.
The Swedish Prime Minister addressed the European Parliament, he said "In a world where 62 people can own as much as 3.5 billion people, in such a world we need a European Union that works for equality, and everyone's chance to pursue their innermost hopes for a good life." I welcomed his call for a summit in Sweden next year to draw up a strategy to make this possible.
This week I arranged a meeting between Claire Wallerstein of the Rame Peninsula Beach Care Group and the Commissioner for the Circular Economy and Marine affairs, Karmenu Vella.
Claire showed the Commissioner a section of a Kilometre long chain on bottle tops, strung together from plastic litter gathered from a Cornish beach over the space of a few weeks. Rame Peninsula Beach Care monitor the health of Cornish beaches and created the bottle tops chain to hit home the impact of our "disposable" behaviour and lifestyles.
EU environmental laws have protected British beaches and saved our countryside from pollution, as I wrote in an article for Environmentalists 4 EU this week. The Commission is now taking the next step in their draft laws to create a Circular Economy - switching us from waste and landfill oriented economies to redesigned, reuse, and recycling economies.
As the shadow draftsperson charged by the parliament with scrutinizing these draft laws, I will negotiate tough binding targets to ensure recycling and reuse become central to the way we live our lives, and that landfill and single use products become a thing of the past.
I spoke in support of the Cornish Language in the Minorities Intergroup on Thursday morning, when the Cornwall Office in Brussels made a presentation about the importance of Cornish to county society, the economy, and about how we need to invest more resources in supporting Cornish.
As you can see this week was as varied as ever, follow me on twitter and facebook for regular updates and remember to check the website as well.